Empresas colaboradoras
Empresas altamente cualificadas en la prestación de servicios a las compañías químicas u otras afines y que ofrecen una experiencia contrastada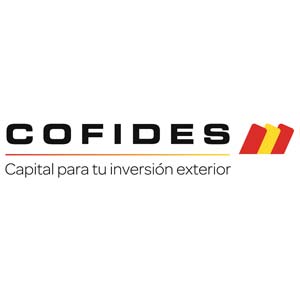 COFIDES
Compañía Española de Financiación del Desarrollo, COFIDES S.A., is a joint state and privately owned company founded in 1988 that provides cost-effective, medium and long-term financial support for viable private investment projects in foreign countries where there is a Spanish interest. The ultimate aim is to contribute, with profitability criteria to host country development as well as to the internationalisation of Spanish enterprises and the Spanish economy. In order to meet this dual goal, COFIDES uses its own resources to finance investment projects located in emerging or developing countries, and it also manages on behalf of the State (
State Secretariat for Trade
, within the
Ministry of Economy and Competitiveness
) the
FIEX
and
FONPYME
Funds, created to finance investment projects abroad regardless of the development level of the host country of the project. COFIDES' total financing capacity is about €2.5bn. The activity of COFIDES, as a private public concern, complements with additionality criteria the resources offered by the market and those provided by investors of the projects themselves. COFIDES always acts on a shared risk basis under which the private investor and COFIDES jointly provide a specified volume of resources for an investment linked to a project. Through the financial products offered, the Company is in a position to invest in principle, between €75,000 euros and €30m per project. COFIDES' share capital is held by:
ICEX Spain Trade and Investment
Instituto de Crédito Oficial – Official Credit Institute- (ICO)
Empresa Nacional de Innovación (ENISA)
Banco Bilbao Vizcaya Argentaria (BBVA)
Banco Santander
Banco de Sabadell
Banco Popular
CAF-Development Bank of Latin America
53% of COFIDES share capital is held by the first three public institutions. COFIDES is a founding member of the EDFI, an association of 15 bilateral institutions for funding in developing countries. COFIDES is an active member of the Spanish network of Global Compact. COFIDES has been ISO9001 certified since 2005, for all its activities related to the quality of Customer Service.
Contact Data and Information of COFIDES:

C/ Paseo de la Castellana, 278 – 28046 Madrid (España)
(+34) 91 562 60 08
(+34) 91 745 44 80
Fax: (+34) 91 561 00 15
Email:
cofides@cofides.es
Visit their Web